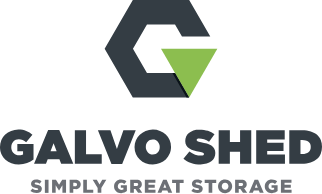 About Galvo Kitset Garden Sheds
Having being manufactured right here in New Zealand for nearly 50 years, we are confident that the Galvo kitset garden shed range offers quality and affordability with a shed to suit every requirement.
The Galvo Premium sheds are built to last using high tensile 0.35 steel with a deep ribbed profile for extra strength. Large sheet sizes make for a quick and efficient assembly and with a range of innovative flooring systems available your Galvo shed will last a lifetime and provide a safe and reliable shelter for your garden tools or lawnmower to your BBQ or ride on.
The Galvo shed range offers choices to suit every taste, from the hobby gardener to the larger backyard or lifestyle block. Check out the range to find the Galvo shed that suits you best.
SHOP SHEDS